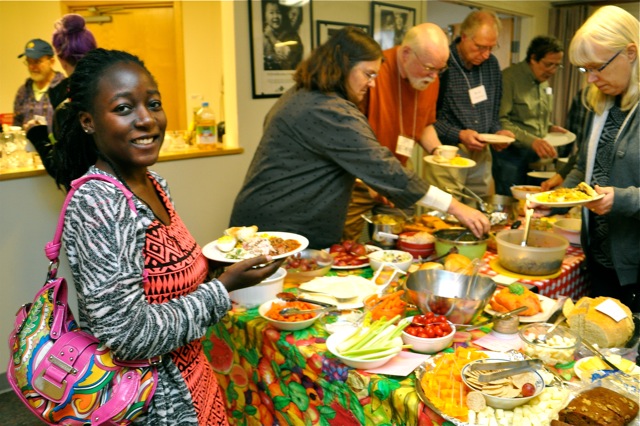 Monthly Potluck
We traditionally hold a potluck lunch on the first Sunday of every month immediately following our meeting for worship. Food to be shared may be dropped off in the kitchen on the lower level of the Meetinghouse. Everyone is invited to participate, even if they are unable to contribute to the meal. Help with cleanup is always appreciated.
Young Adult Quakers (YAQs)
The YAQs are Quakers roughly 18-40 years old, mostly without children, who gather for potlucks, game nights, hikes and other activities. Those interested can contact Elizabeth Showalter (catli022(Replace this parenthesis with the @ sign)morris.umn.edu) to be added to the email list, and watch the bulletin for event updates.
Fall Camp
Since the mid-1950s, Minneapolis Friends Meeting has held a weekend retreat each autumn for people of all ages. It is a wonderful way to get to know each other as we share meals, recreation, games, and worship in a beautiful setting. In 2016 Fall Camp will be held at Camp Courage, about 50 miles west of the Twin Cities.
Expenses for Fall Camp are paid out of the Meeting's operating budget. Designated contributions are very welcome, but the intention is that anyone be able to attend regardless of whether they are able to contribute financially.
Lunch Bunch
The Lunch Bunch group meets occasionally on a weekday for lunch and friendly conversation. Attendees are mostly older members of the Meeting, but the group is open to anyone who would like to attend. For location and other details, look for notices in the bulletin, or call the Meeting office.
George & Elizabeth Watson Memorial Discussion Group
This is a reading group inspired by George and Elizabeth Watson, who throughout their lives brought Friends together for reading and discussion on spiritual approaches to social change. The group meets at mutually agreed-upon intervals of two to four weeks, usually on a Tuesday or Wednesday evening. The meetings and readings are posted in the bulletin. All are welcome.
Quaker Women's Group
The Quaker Women's Group is open to all Quaker women in the Twin Cities area. Meetings usually involve a potluck lunch followed by a program or discussion, and are usually held at the Twin Cities Friends Meetinghouse in St. Paul. The group meets on the 3rd Wednesday of the month, March through November. Watch the bulletin for notices of meetings.

Four Rivers Friends
The Four Rivers Friends planning committee strives to connect Friends in East-Central Minnesota and Wisconsin near the valleys of the Mississippi, Minnesota, St. Croix and Cannon Rivers. The group organizes fun intergenerational events.
Loaves and Fishes
Loaves and Fishes is an organization that serves free meals to those in need. Minneapolis Friends Meeting and Twin Cities Friends Meeting partner to prepare, serve, and clean up after a dinner whenever there is a 5th Monday in a month. Dinners are served at Holy Rosary Church, 2424 18th Ave South in Minneapolis. Ann Luce and Sue Kearns are the coordinators for MFM's participation. Contact Ann or Sue for information.
Facebook
Minneapolis Friends Meeting has an active Facebook page where you can keep up with activities and engage in online conversations.