Update – Nov 18, 2013
The Quaker Quest sessions have now ended, but the information below is still here as documentation of what we have done. It might be helpful should we decide to repeat this effort in the future.
---
Minneapolis Friends Meeting has made the decision to engage in Quaker Quest, and will be advertising and hosting a series of public sessions in October and November 2013. There is a core group that is taking the lead in organizing this, but it's a Meeting-wide effort; we need everyone on board and contributing to the extent they are able!
What is Quaker Quest?
Quaker Quest uses a series of workshops to help Friends to share spiritual stories, deepen the meeting community, prepare outreach, and welcome new attenders. It affirms that the Quaker way is a simple, radical, and contemporary spiritual path, and encourages Quakers to share their spiritual experiences. Quaker Quest was developed by Quakers in England. Friends General Conference has created a program to help individual Quaker Meetings through the Quaker Quest process and put on a series of public sessions.
We see Quaker Quest as a way to make ourselves better known and better understood. We are not intending to proselytize or "convert" anyone; we simply want to make our Meeting more visible in the community so that people who might be drawn to our ways of worship will have a better chance of finding us.
More information about Quaker Quest is at the Friends General Conference website.
Video featuring voices from Minneapolis Friends Meeting:
The video above, produced by Friends General Conference, features voices and images from the full-day Quaker Quest preparatory workshop held at Minneapolis Friends Meeting in November 2011, with additional images from other FGC events. The workshop at MFM was led by facilitators from FGC, and many people from our Meeting found it to be a very valuable experience. At a Meeting for Business following this workshop, our Meeting decided to commit to the full Quaker Quest process.
Public Sessions
We will hold a series of three Quaker Quest public sessions on Tuesday evenings in October, each devoted to a different topic. The same sessions will be repeated on Sunday afternoons in November. See the full schedule and details for the public sessions.
These sessions will be publicized as widely as possible via newspapers, radio, online social media, posters, flyers, and word of mouth.
See the Star Tribune article: Minneapolis Quakers hold 'get acquainted' gatherings
Help needed!
There is a role for everyone in putting on these public sessions:
Speakers: The core group will be inviting selected people from our Meeting to speak briefly at the public sessions about their personal perspectives on the session's topic.
Hosts: The core group will be inviting two people to serve as co-hosts for each of the public sessions.
Discussion group facilitators: The core group will invite several people to serve as small-group discussion facilitators at the public sessions.
Setup & Cleanup: Many people can help with setup, cleanup, and other tasks at the public sessions.
Participation: Members and attenders of MFM are welcome to attend the public sessions to listen to the speakers, engage in small group discussions, and chat informally with newcomers during social time before and after each session.
Publicity: Everyone can help publicize the public sessions by distributing flyers, putting up posters, talking with friends and neighbors, posting in Facebook and other social media, etc.
Speaking of publicity…
Please help get the word out by distributing Quaker Quest flyers: on public bulletin boards in libraries, coffee shops, laundromats, etc. or by handing them out to friends. Supplies of flyers are at the meetinghouse, or you can download an electronic copy here: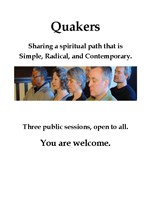 Who is organizing Quaker Quest at Minneapolis Friends Meeting?
Members of the Quaker Quest core group are:
Sandy Olson, clerk
Roland Barrett
Lin Butler
Nancy Helfrich
Jim Lovestar
Barbara Mohr
Ed Souther
David Woolley
For questions, please contact Sandy Olson: 952-927-4753 or sandyolson(Replace this parenthesis with the @ sign)unique-software.com